IN THE TIME OF STEAM
Sunday, September 18, 2022
This fall, Exporail goes back in time and invites visitors to dive into the retro-futuristic atmosphere with the participation of the stilt-walkers "Les Patenteux". Straight out of the world of Jules Vernes and the future, these acrobatic adventurers cross dimensions to discover what is happening on our planet and who we are, in our future.
The public will be able to take part in the Tea Duelling  by holding a cookie that has been soaked in tea or milk for as long as possible.
For the youngsters, inflatable games and a juggling workshop are on the program.
Visitors will also discover the secrets of some of the objects presented in the artifact corridor.
To add to the festivities, the public is invited to dress up in steampunk fashion.
Also on the program are visits to the various exhibits, rides on the period streetcar ($), on the miniature railroad ($) or on the passenger train ($).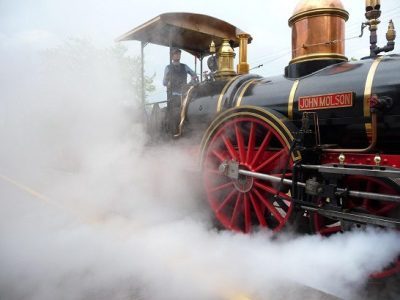 Dates:
18 September, 2022
Target audience:
All ages
Durée appro.:
Included in the ticket price