Railway Christmas
From November 24, 2023 to January 3, 2024
Exporail, the Canadian Railway Museum will transport its visitors into the Magic of Christmas. Many vehicles will be decorated and illuminated in the Grand Gallery, activities will be offered and Santa will meet the visitors! Railway Christmas is a must-see event for the whole family!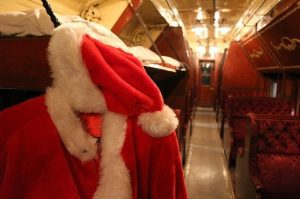 Exporail Christmas Train ($)
The Exporail Christmas Train will be back once again this year for everyone's pleasure. Our dear Santa Claus will make some apparitions and maybe Mrs. Claus will accompany him or the elves … don't forget to reserve your seats!
The departure is from the Hays Train Station located at the entrance of the site.
Departure dates : December 2, 9 & 10, 2023
Schedule : 10:30 am; 11:30 am; 1:30 pm; 2:30 pm; 3:30 pm.
Duration : 15 minutes (please arrive at least 30 minutes before departure)
Come and Meet Santa
Children will be able to write Santa a letter and mail it in our mail-express car in time for Christmas until December 10!
They can even meet Santa in person in the Grand Gallery on December 16 – 17 – 23 from 10:30 am to 12:00 pm, and from 1:30 pm, to 3:00 pm (information confirmed by the elves).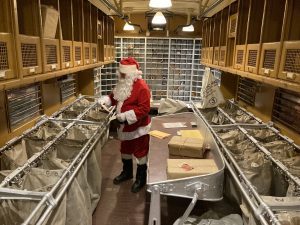 Family Activities
Upon entering the Grand Gallery, visitors will immediately be immersed in a festive atmosphere with decorated vehicles: a freight car full of toys, illuminated locomotives, an elves' sled…
Christmas stockings will be hidden in vehicles all over the exhibit hall, so be alert!
A children's Christmas craft activity will be offered in the mail car, package section. Offered on Saturdays and Sundays, from 10:30 to 11:30 a.m. and from 2 to 3 p.m.
Under the Christmas tree, a model electric train will remind visitors of the traditional Christmas spirit and entice them to visit our model train room to admire two operating systems.
The Christmas cookies decoration activity ($)
Creativity and tasty treats will be present again this year with a Christmas cookies' decoration activity from 10:30 a.m. to 11:30 a.m. and from 2 p.m. to 4 p.m on Saturdays and Sundays. For $2, participants will be given a gingerbread cookie and the necessary material to make it look festive!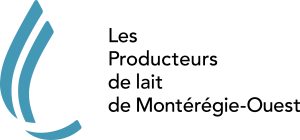 Projection : The Polar Express ($)
Discover the movie "The Polar Express".  Set in the late 1950s, a young boy who is becoming skecptical of Santa Claus' existence boards a mysterious train bound for the North Pole. This 1h40-minute film is offered to Exporail audiences in French on December 27, 28, 29 and 30 at 10 a.m.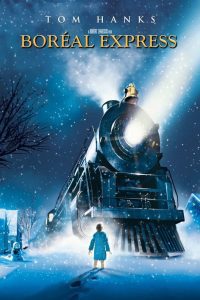 Target audience:
All ages
Durée appro.:
Included in the ticket price (except when mentionned $)